Silicone Sealant For Solar Panel Module
Product name: Silicone Sealant For Solar Panel Module
Product description
The product is deketoximized silicone sealant for bonding and sealing of solar cell modules. It is a thixotropic one-component, room temperature curing, neutral silicone material;
High and low temperature resistance, excellent aging resistance, flexibility, insulation, moisture resistance, shock resistance, corona resistance, and leakage resistance;
The sealant can be bonded to steel, aluminum plate, glass, PVC, ABS, EVA and other materials. Usually used in solar cell component aluminum frame adhesion and sealing, junction box adhesion, and prevent crystalline silicone and polycrystalline silicone from pollution and oxidation.
Product features
Fast curing at room temperature, non-toxic and non-corrosive;

Excellent electrical insulation performance, arc corona resistance and impact resistance;

Good extrusion rate and smooth colloid surface;

Medium hardness, high elongation and tensile strength;

Excellent adhesion outdoor aging performance,maintains long-term sealing performance, the service life could be 20~30 years;

Good resistance to heat and humidity: no change in strength, hardness and electrical properties after heat and humidity aging;

Ultraviolet resistance: no obvious discoloration, no wrinkles, no bubbles after long-term aging in the ultraviolet aging box;

Alleviating mechanical stress and tension caused by machine, thermal shock and vibration

Stable mechanical and electrical performance at the temperature between -60~260℃.
Product picture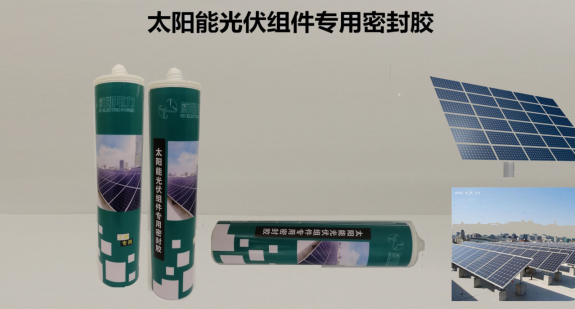 Technical data sheet
Uncured

Items

Parameters

Standards

Appearance

White or black paste

/

Tack free, min

≤30

GB/T 13477.5

Extrusion,g/min

25-250

ASTM C1183

Solid content

100%

GB/T 1725

Cured

(At temperature 23℃±2℃, relative humidity 50%±5%)

Tensile strength,MPa

≥1.7

GB/T 528

Elongation at break,%

≥250%

GB/T 528

Tear strength,kN/m

≥7

GB/T 529

Shear strength,MPa

≥2

GB/T 7124

Volume resistivity, Ω•cm

≥1.0×1014

GB/T 1692

Dielectric strength, kV/mm

≥18

GB/T 1695

Shore hardness,Shore A

40~60

GB/T 531.1